Ayala Triangle Gardens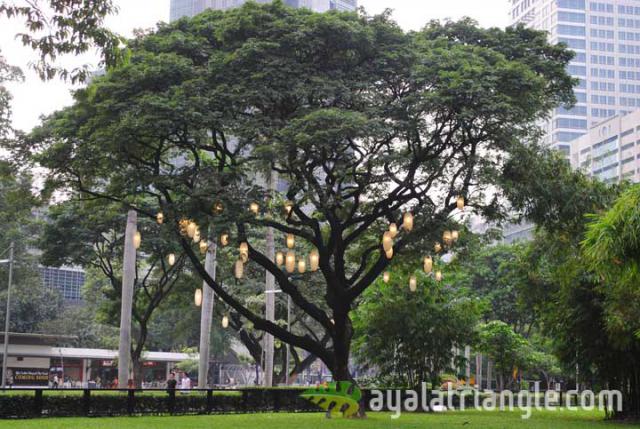 From being the site of the country's first landing strip to being the block that held the nucleus of the Philippine business community now emerges a calming & beautiful haven for Makati's Central Business District is now a landscaped expanse of over 20,000 square meters populated by over a hundred trees with a diverse mix including rain trees, golden palms, fire trees, kamuning and podo cerpus. All these in an open courtyard tastefully interspected with lush greenery and inspired public art pieces from some of the country's leading artists. Visit the Ayala Triangle Gardens and enjoy a moment in this contemporary oasis.
Operating Hours: 6:00 A.M. – 10:00 P.M.
Guidelines:
All guests are required to observe the following guidelines as well as other policies and directives of management to ensure a relaxing and enjoyable experience at Ayala Triangle Gardens.
Guests shall be solely responsible for their actions and belongings. The Owner and management shall not be liable for any loss or damage to guests.
Security checks on persons and property may be conducted at the discretion of management.
Management reserves the right to refuse admission or deny the continued stay of any
person in the premises, including those who fail to comply with Outdoor Space guidelines or who otherwise engage in disruptive or inappropriate behavior.
Guests should use proper pathways and properly dispose of trash.
Minors must be accompanied and supervised by responsible adults.
Guests must observe and preserve pedestrian safety.
Pets must be properly leashed and secured, and handlers must clean up after them.
The following acts are PROHIBITED within the premises:

Selling and / or displaying goods or services
Leaf letting,  distributing or posting of any printed material
Generating loud noise and music
Vandalism
Staging of unauthorized events, public gathering or unauthorized assembly
Taking photographs, videotaping, recording, broadcasting or transmission of any material for commercial purposes
Gambling or any other illegal, immoral or improper conduct
Bringing in of dangerous or hazardous materials, weapons (or similar objects), illegal substances, alcoholic drinks and glass containers
Use of skateboards or motor vehicles (except motorized wheelchairs and non motorized bicycles)